The Perfect Plant
Succulent Compositions
Balcony, Patio, Garden & Interior Space
We perfectly pair succulents and vintage/vintage inspired and interesting containers to create unique One-of-a-Kind Works of Art!
Succulents and cacti are well-suited to San Diego's semi-arid climate. Your Perfect Plant will require very little care and in fact will thrive on some neglect. Should your Perfect Plant composition grow too large or leggy for the container, simply behead or cut the stems to an inch or two and replant in the same container. It's plant recycling!
Speaking of recycling, many of the containers are one-of-a-kind and/or vintage/vintage inspired. To become a home for a Perfect Plant each container must get a drain hole to allow for well drained soil, one of the conditions to help make your Perfect Plant Happy! Care instructions come with each Perfect Plant!
Living Art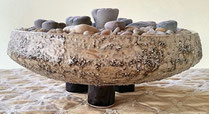 SORRY STILL UNDER CONSTRUCTION. SOME PLANTS FOR SALE ARE LISTED UNDER  "PLANT COMPOSITIONS FOR SALE." ALSO FEEL FREE TO CONTACT THE PERFECT PLANT TO ARRANGE A VISIT.